Lying in the hiring process: What Human resources needs to know
 People lie all the time during the hiring process. It's up to Human Resources and hiring managers to catch those liars. Where are those fibs being told — and how can you prevent them?
Resume lies
In this intense job market, it's no surprise that many applicants exaggerate parts of their resumes to look more enticing to potential employers.
The concept is so widespread, however, that nearly half of all applicants admit to lying on their resumes.
That's according to a 2009 study from ADP, which found that 46% of all applicants commit some form of resume fraud.
Where are those lies being concentrated? Here are the 10 most common lies on resumes, courtesy of Marquet International:
Stretching work dates
Inflating past accomplishments and skills
Enhancing job titles and responsibilities
Exaggerating educational background
Inventing periods of "self-employment" to cover up unemployment
Omitting past employment
Faking credentials
Falsifying reasons for leaving prior employment
Providing false references, and
Misrepresenting a military record.
Interviewing lies
Your job would be a lot easier if you could easily spot those resume lies and nix those candidates from consideration.
But no matter how clued in you are to what applicants fib about, you'll still inadvertently bring many of them in for interviews.
That's when your skills at judging character come in. So who's the best at screening potential talent? Is it someone who's skeptical and suspicious about most applicants, or a person who's trusting?
If you guessed that skeptical managers would do a better job, you're not alone. You're also wrong.
That's according to a recent study from psychologists Nancy Carter and Mark Weber, which was recently highlighted in The Washington Post.
A large majority (85%) of participants said a skeptical interviewer would do a better job spotting dishonesty in job interviews.
But a subsequent study found that people who trust others — or who assume the best in other people — are the best at identifying liars.
How's this so? On human resources expert explains:
&Hellip; lie-detection skills cause people to become more trusting. If you're good at spotting lies, you need to worry less about being deceived by others, because you can often catch them in the act.
Another possibility: People who trust others become better at reading other people because they get to see a range of emotions during their interactions. That gives them more experiences to draw from to tell when someone is lying and when someone is telling the truth.
Human resources leaves employers with some advice on who they should have in the interviewer role to prevent applicants from duping you into hiring them:
Human resources expert - we need leaders who demonstrate skill in recognizing dishonesty. Instead of delegating these judgments to skeptics, it could be wiser to hand over the hiring interviews to those in your organization who tend to see the best in others. It's the Samaritans who can smoke out the charlatans.
Of course, faith in others can go too far. It's important to sprinkle a few ounces of skepticism into each pound of trust. Ultimately, while the best leaders don't trust all of the people all of the time, the keenest judges of character may be the leaders who trust most of the people most of the time.
Source:http://www.Hrmorning.Com/
Say 'yes' to no: 6 ways to say 'no' at work and still get ahead

There are ways to break the habit of saying yes and get your life back, without giving up your career goals.

When did "no" become a four-letter word? It seems like only yesterday when Nancy Reagan was on a very special episode of "Diff'rent Strokes" to talk to Gary Coleman about the virtues of saying no. (Those were the days, eh?)

If only the former first lady were around today to speak with today's working professionals about just saying no at work. In addition to steering them away from drugs, she could also advise them to steer clear of taking on extra work, which (not unlike drugs) can so often take a toll on workers' stress levels and productivity.

Despite their already full workloads, tight deadlines and packed schedules, many working professionals have a hard time saying no, for fear of missing out on opportunities and damaging their professional image. Contrary to popular belief, however, saying no doesn't have to be a bad thing. In fact, it can be incredibly empowering, says Scott Fetters, founder of High Five Digital Marketing.

&Ldquo;Saying no is your battle shield for deflecting distractions, staying true to yourself and sticking to the course,"Fetters writes.

Not to mention that it's also one's right to say no. Saying no, however, does not come easy -- especially in the workplace.Women in particular have a hard time saying no -- perhaps due to a learned habit of trying to please everyone or an inherent fear of hurting other people's feelings. Fortunately, there are ways to break the habit of saying yes and get your life back, without giving up your career goals.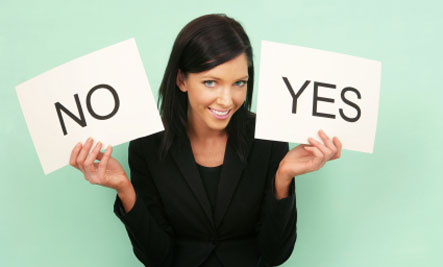 Six ways to say no at work and still get ahead:

1. Shift your mindset. Don't think of saying no as giving up or giving in. Look at it as a way to free up time for what's truly important to you. &Ldquo;Some of us have a hard time saying no because we hate to miss an opportunity,"says HBR's Peter Bregman. But saying no isn't about missing an opportunity -- it's about making a choice and opening yourself up to a different opportunity.

2. Take pride in saying no. Many people hesitate to say no for fear of losing respect from colleagues or their manager, when in reality, saying no can have the opposite effect. Saying no "shows you have a vision, a plan and an opinion," Fetters says.

3. Be clear. One of the reasons women hate to say no is fear of hurting someone else's feelings. But when you say no, you're not rejecting that person -- just the request. So be clear and explain -- honestly -- why you're rejecting the request.

4. Don't feel guilty. Remember: You have a right to say no. Don't feel guilty for saying no. After all, if you say yes to work and you don't have the time, resources or energy needed to produce a quality result, isn't that more unfair to the person whose request you're accepting than saying no?

5. Choose the right words.When saying no, use the phrase "I don't" instead of "I can't," which research shows is a more effective way to say no. As Heidi Grant Halvorson, director of the Motivation Science Center at Columbia University, explains, "'I don't' is experienced as a choice, so it feels empowering. It's an affirmation of your determination and willpower. &Lsquo;I can't' isn't a choice … [It] undermines your sense of power and personal agency.&Rdquo;

6. Know when to say yes.Say yes only to the projects you truly want to take on, says career expert Lindsay Olson. &Ldquo;Before you say yes to something," she suggests, "pause a moment and ask yourself whether this is truly something you want to do, or whether you simply feel obliged to say yes to it.&Rdquo;

(Picture Source: Internet)
HRVietnam - Collected